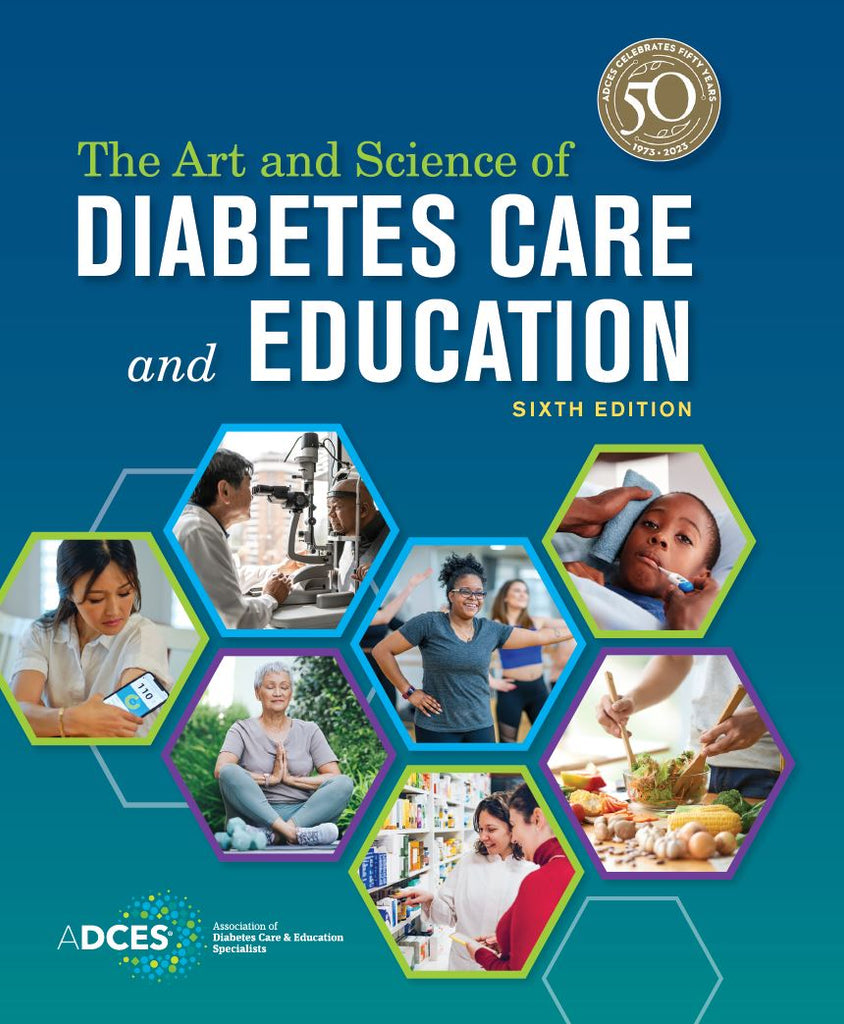 ADCES Desk Reference - 6th Edition
---
The Art and Science of Diabetes Care and Education - 6th Edition
The ADCES (formerly AADE) Art and Science of Diabetes Care and Education, 6th Edition is a specialist's one-volume, go-to resource for the core knowledge and skills for providing person-centered care and education to persons with diabetes and related chronic conditions. This is a core resource for those who are studying for the Certified Diabetes Care and Education Specialist (CDCES) exam.
Major Features:
Practical information educators can use with patients to avoid complications and comorbidities
Risks and benefits of CGM and the educator's role in working with patients who use CGM
Updated info on incorporating the ADA, ADCES, and AND joint position statement and algorithm of care into a DSME program
Updates:
All chapters updated to the American Diabetes Association 2023 Standards of Care in Diabetes.
All chapters updated with person-first, empowering language.
New Appendix: Insulin Pump Therapy and Automated Insulin Delivery Systems
Chapter List:

Chapter 1: Diabetes Care and Education: Rich Past, Challenging Present, Promising Future

Chapter 2: The Diabetes Self-Management Education Process

Chapter 3: Theoretical and Behavioral Approaches to the Self-Management of Health

Chapter 4: Healthy Coping

Chapter 5: Health Eating

Chapter 6: Being Active

Chapter 7: Taking Medication

Chapter 8: Monitoring

Chapter 9: Reducing Risks

Chapter 10: Problem Solving

Chapter 11: Diabetes Education Program Management

Chapter 12: Transitional Care

Chapter 13: Pathophysiology of the Metabolic Disorder 

Chapter 14: Type 1 Diabetes Throughout the Lifes Span

Chapter 15: Type 2 Diabetes Throughout the Lifes Span

Chapter 16: Nutrition Therapy

Chapter 17: Pharmacotherapy for Glucose Management

Chapter 18: Monitoring: Glucose

Chapter 19: Therapy Intensification: Technology and Pattern Management

Chapter 20: Pharmacotherapy: Dyslipidemia and Hypertension in Persons With Diabetes

Chapter 21: Dietary Supplements and Diabetes: A Focus on Complementary Health Approaches

Chapter 22: Complementary Health Approaches and Diabetes Care

Chapter 23: Acute Hyperglycemia

Chapter 24: Pregnancy With Diabetes

Chapter 25: Cardiovascular Complications of Diabetes

Chapter 26: Eye Disease Related to Diabetes

Chapter 27: Diabetes-Related Kidney Disease

Chapter 28: Diabetes-Related Neuropathies
Appendix: Insulin Pump Therapy and Automated Insulin Delivery Systems
For more helpful tips while planning your study path, visit our 10 Steps to Succeed Page - or download our printable 10 Steps to Succeed Checklist.
As with most new textbooks, errors are discovered as readers pour through the pages. The ADCES has sent

 

us a list of discovered errors as detailed below. 
---
Share this Product
---
More from this collection