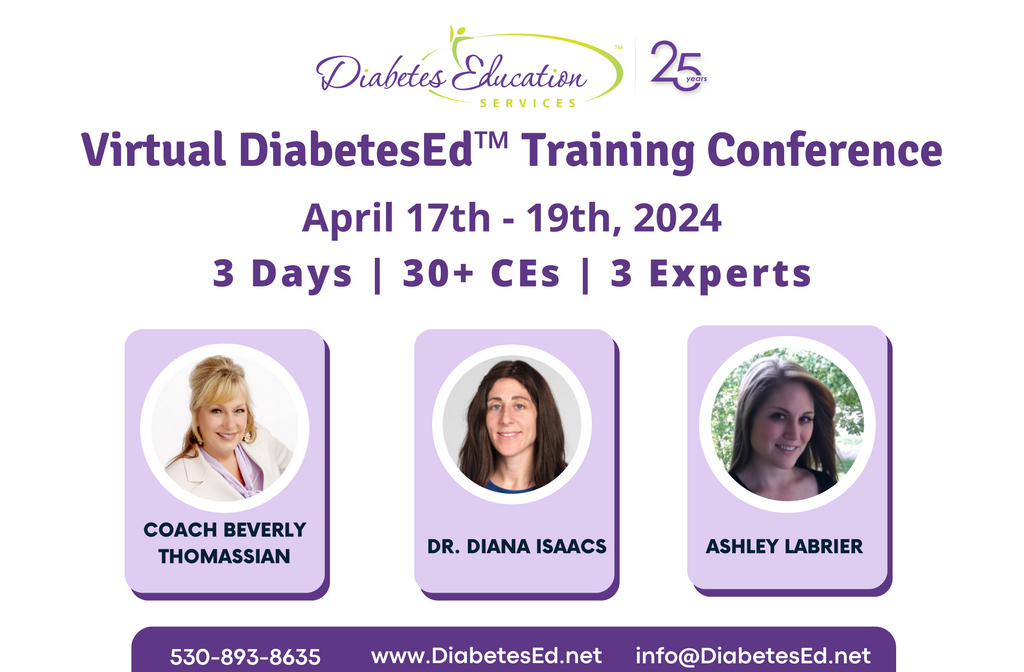 Virtual DiabetesEd Training Conference | Deluxe | April 17-19th, 2024
---
Join Coach Beverly and Team for two and a half days of knowledge-sharing, fun, and "aha" moments for our Virtual DiabetesEd Training Conference April 17th - 19th, 2024.
Attendees will leave this conference with new tools and a refreshed understanding of the latest advances in person-centered diabetes care.  Our team highlights the ADA Standards of Care, medications, behavior change, technology, medical nutrition therapy, and more!
Our instructors co-teach the content to keep things fresh and lively. 

The Deluxe Training Conference registration includes a printed copy of the syllabus and DiabetesEd Swag Goodie Bag.
Friend Discount: 3 or more only $429 per person. Email us at info@diabetesed.net with the name and email of each registrant to get the discount!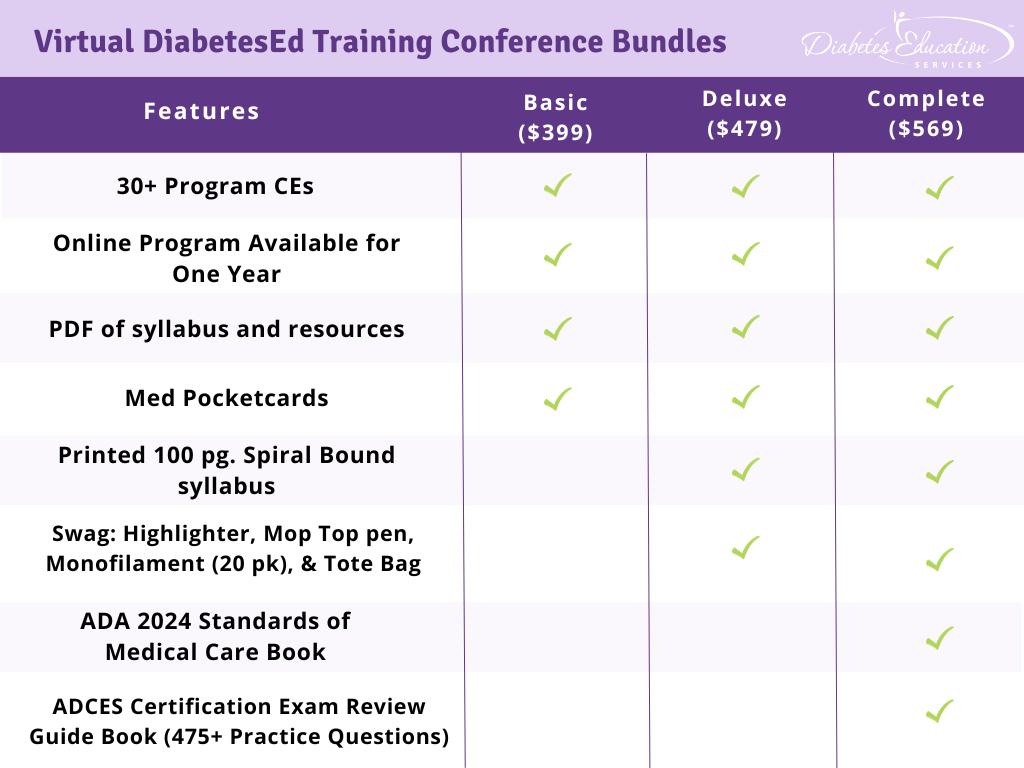 Speakers:
View Conference Faculty
Coming Soon: Program Schedule
Coming Soon: Flyer
---

Our team expertly translates the complex science of diabetes into understandable terms while keeping it real, practical, and fun.
Team of expert faculty includes:
Diana Isaacs, PharmD, BCPS, BC-ADM, BCACP, CDCES – Educator of the Year, 2020
Coach Beverly Thomassian, RN, MPH, CDCES, BC-ADM
Ashley LaBrier, MS, RD, CDCES, Diabetes Program Coordinator 
Who should attend?  This library of critical information is designed for individuals or groups of diabetes specialists, including RNs, RDs, Pharmacists, Nurse Practitioners, Clinical Nurse Specialists, Physician Assistants, and other healthcare providers interested in staying up to date on current practices of care for people with diabetes and preparing for the certification exams.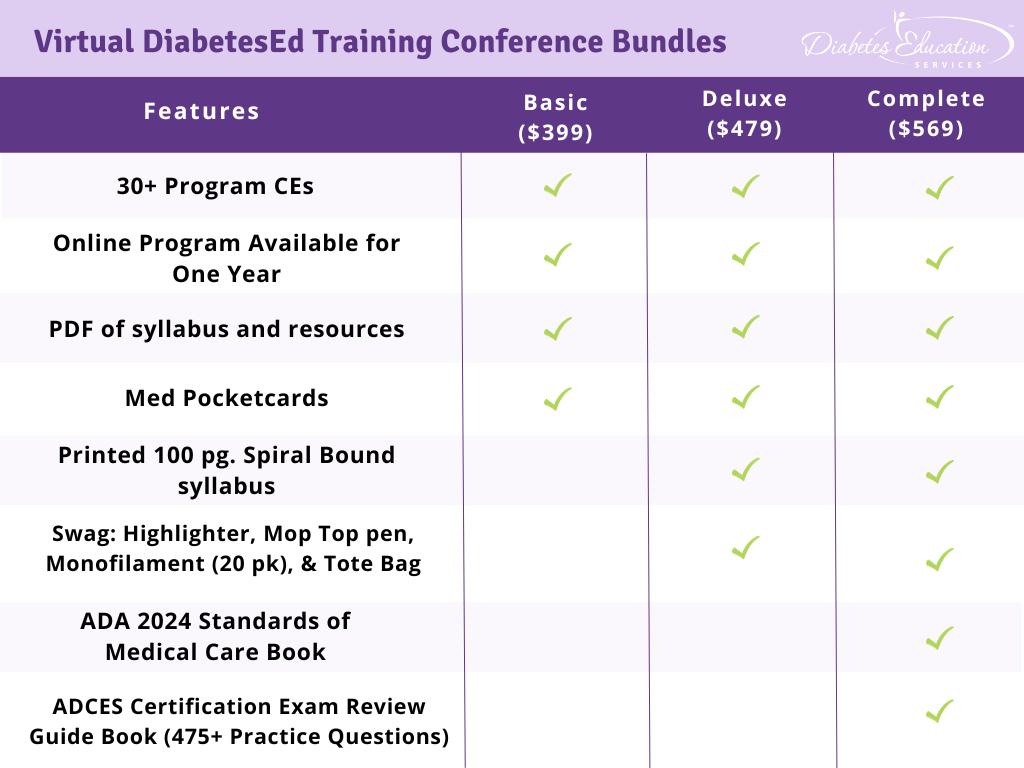 Registration Fee includes:
3 Days: of critical information delivered by passionate speakers in an engaging and fun format!
11 Bonus Online Courses: As a course attendee, you automatically receive a bonus online course bundle of 11 online courses valued at over $200. Coach Beverly carefully chose each of these courses based on student feedback on which content best helped them succeed at the Certification Exams and in their clinical practice. You will be given instructions after you purchase the course on how to enroll in our Online University and get started! 

Printed 100-page syllabus

Swag Goodie Bag: Our Goodie Bag contains a FREE highlighter, 20-pack of monofilament, mop top pen, Tote Bag, and Med PocketCard.
____________________________________________________________________________________
Conference Topics
Day 1 | "Standards of Care, Medications for Type 2 & Addressing Cardiovascular Disease" with Coach Beverly and Dr. Diana Isaacs
Our two experts highlight the critical content from the ADA Standards of Care, with a focus on important updates that impact clinical practice. Also included are discussions on medication management of diabetes and cardiovascular disease.
Current State of Diabetes ADA Standards of Care
Person-Centered Care for Type 1, Type 2, LADA, GDM
Medical Evaluation, Risk Identification
Glycemic Targets Across the Lifespan
Hypoglycemia prevention & treatment
Significance of Landmark Studies
Medications for Type 2
Pharmacology Algorithms – AACE and ADA
Cardiovascular Monitoring and Management
____________________________________________________________________________________
Day 2 | "Insulin Fundamentals to Pattern Management, Physical Assessment & Diabetes Technologies" with Coach Beverly and Dr. Diana Isaacs
The first part includes a detailed discussion of insulin therapy, pattern management, and insulin delivery devices.  A case study follows outlining a head-to-toe assessment of someone living with diabetes. The afternoon segment reviews the latest diabetes technology with a show-and-tell session that demonstrates pumps, sensors, and an array of diabetes gadgets. The final part includes a discussion on integrating mental health with body health and strategies to provide extraordinary diabetes care.
Insulin – The Ultimate Hormone Replacement Therapy
Insulin Pattern Management and Dosing Strategies
Discuss strategies to determine and fine-tune basal and bolus insulin settings based on glucose pattern management
List the elements of a tooth-to-toe assessment including lower extremities.
Microvascular Disease – Screening Guidelines and Risk Reduction
Utilizing diabetes and technology to improve care
Integrating Mental Health with Body Health
Provide strategies for healthcare professionals to overcome barriers and Deliver Extraordinary Diabetes Care
____________________________________________________________________________________
Day 3 | "Medical Nutrition Therapy & Pattern Management" with Ashley LaBrier
Enjoy a comprehensive review of the latest findings in nutrition therapy, utilizing a person-centered educational approach.  Our expert will also discuss the impact of exercise on glucose and strategies to keep safe while keeping active.
Medical Nutrition Therapy (MNT) – Keeping it Person Centered
Evidence-based approaches to MNT
Meal Planning – Hot to Eat by the Numbers
Adjusting Meal Planning based on individual assessment
Keeping Active with Diabetes
____________________________________________________________________________________
Accreditation: Diabetes Education Services is an approved provider by the California Board of Registered Nursing, Provider 12640, and Commission on Dietetic Registration (CDR), Provider DI002. Since these programs are approved by the CDR it satisfies the CE requirements for the certification exams regardless of your profession.* The use of DES products does not guarantee the successful passage of the certification exam. CBDCE does not endorse any preparatory or review materials for the certification exam, except for those published by CBDCE.
The use of DES products does not guarantee the successful passage of the CDCES exam. CBDCE does not endorse any preparatory or review materials for the CDCES exam, except for those published by CBDCE.
---
Share this Product
---
More from this collection