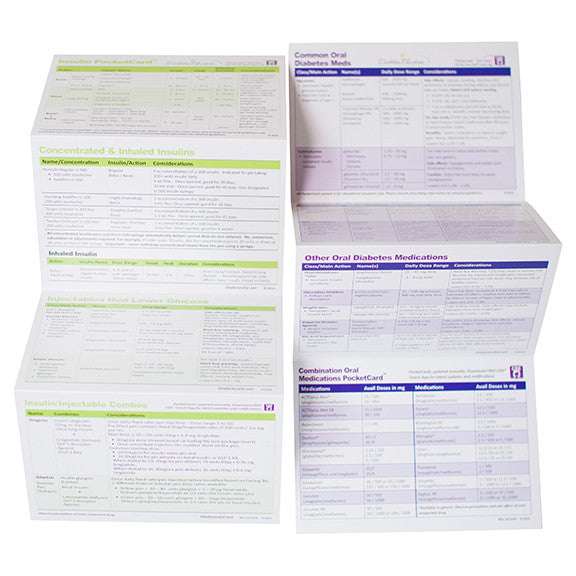 Medication PocketCard 2023
---
These PocketCards are awesome!
Our Medication Pocketcards for 2023 updates is now available!
FREE shipping for up to 50 PocketCards
Emily Gibbons- "My coworker just ordered a bunch of these cards for the physicians we work within the hospital. They are awesome. You guys are the best! I will continue to give you business."
New 2023 Printed and ePocketCard Updates:
For those on GLP-1 & GIP RA's, report symptoms of intestinal blockage (October).
Insulin effective action, peak and duration times ranges, 
Considerations for SGLT-2s based on ADA/EASD Guidelines.
Deleted the DPP-IVi Saxagliptin (Onglyza) & Kombiglyze XR (saxagliptin/metformin XR) since permanently discontinued (July).
Indicated new Pediatric approval for empagliflozin (Jardiance) and dulaglutide (Ozempic) for ages 10 and older (July).
Our eight-sided medication accordion Pocketcards were designed by Coach Beverly Thomassian as a tool for clinical practice and exam preparation. One of our best sellers, the Diabetes Medication PocketCard is perfect for any health care professional providing diabetes care.  Also a great gift for colleagues and staff.
Get your PocketCards today! The accordion-style includes 8 sides and are 6 x 4.5 in of the following cards:
Insulin Pocket Card

Front side: current insulins, including action times and dosing info

Backside: concentrated and Inhaled insulins 
GLP-1 Receptor Agonists, Injectables / Insulin + GLP-1 Combo

Front side: GLP-1 Receptor Agonists and Injectables 

Back side: Injectable/Insulin Combinations 
Oral Diabetes Medications – Complete listing of the 4 common oral medications including dosing range and considerations.


Other Oral  and Combo Oral Medications   

Front Side: Less commonly used oral medications
Backside: Complete listing of all the combined oral medications including doses available
To preview the medication PocketCards:
Download a PDF of all Medication PocketCards
Download our FREE CDCES Coach App for the most updated version
---
Share this Product
---
More from this collection