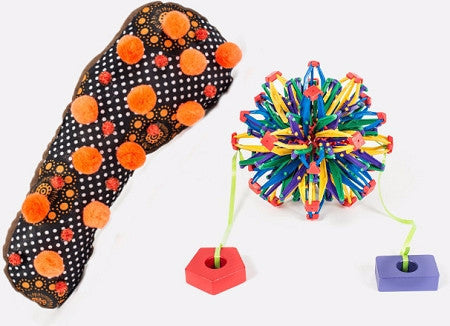 Pancreas Partner plus DiaCell Teaching Tools
---
We've put these powerful tools into one package! Captivate your students while explaining the pathophysiology of diabetes. This special package combines the pancreas partner and DiaCell teaching tools to advance your patients' understanding of diabetes.

Since each pancreas is lovingly made by hand, please limit the purchase quantity to 10.  If you need more than this, reach out to us at info@diabetesed.net
Download Instructional Brochure
Pancreas Partner - sold individually for $29.99
A pancreas with the normal amount of beta cells on one side and less than 50% on the other. The pom poms represent the insulin producing cells and the natural history of beta cell loss that is associated with Type 2 diabetes.
Each Pancreas Partner is unique and hand crafted from donated traditional African fabrics. For this reason, material and beta cell color will vary. Thank you for your purchase and contribution to Just One Person.
DiaCell - sold individually for $20
The DiaCell is a fun and effective educational tool that explains normal fuel metabolism and the defects associated with type 2 diabetes. In addition, it can be used to motivate patients to lower blood glucose levels through diet, exercise and medications.
Download Instructional Brochure
Watch the video demonstration of Beverly using these tools together to describe the natural history of type 2 diabetes and self care goals.
---
Share this Product
---
More from this collection